Promote QuickFind Tags
™
to local and online customers, and be rewarded!
See information
below
regarding using the
QuickFind Tags
™ system as an
additional revenue stream
for your business.
Every year, millions of people lose cell phones, cameras, keys, laptops, ipads, ipods, wallets, hand bags, backpacks, sport bags and other items. QuickFind Tags™ can be scanned by anyone with a smartphone to contact owners immediately! Finders can also be assisted by our LIVE Operators to QUICKLY return lost items to their owners.
The number of valuable items people lose every day is simply staggering! The above video shows that over 1000 lost items come into London's Underground transportation system every day. With such occurrences also throughout our nation's transportation systems and at many other locations, businesses now have the opportunity to add an additional revenue stream to their business, while also enhancing their ability to return lost items in a way FASTER than ever before possible. This is accomplished simply by using QuickFind Tags™ and becoming Partners with the QuickFind Tags™/Stuff Tags™ system. Revenue is earned by promoting the service to both local and online customers. After referred individuals sign up to use the

FREE

Owner Contact Service, commissions are earned for each referral that purchases QuickFind Tags™ and also when they upgrade to Premium membership. Membership commissions continue in perpetuity. Below is a sample of the promotional card for local patrons to take home. Both businesses and individuals can refer businesses or the general public, as subaffiliates, and earn life-time recurring 1st and 2nd tier commissions. Website graphic and text banners are also available in the affiliate area.
See website banner samples for both Stuff Tags™ and QuickFind Tags™ at: Lostandfoundservices.com/patron_samples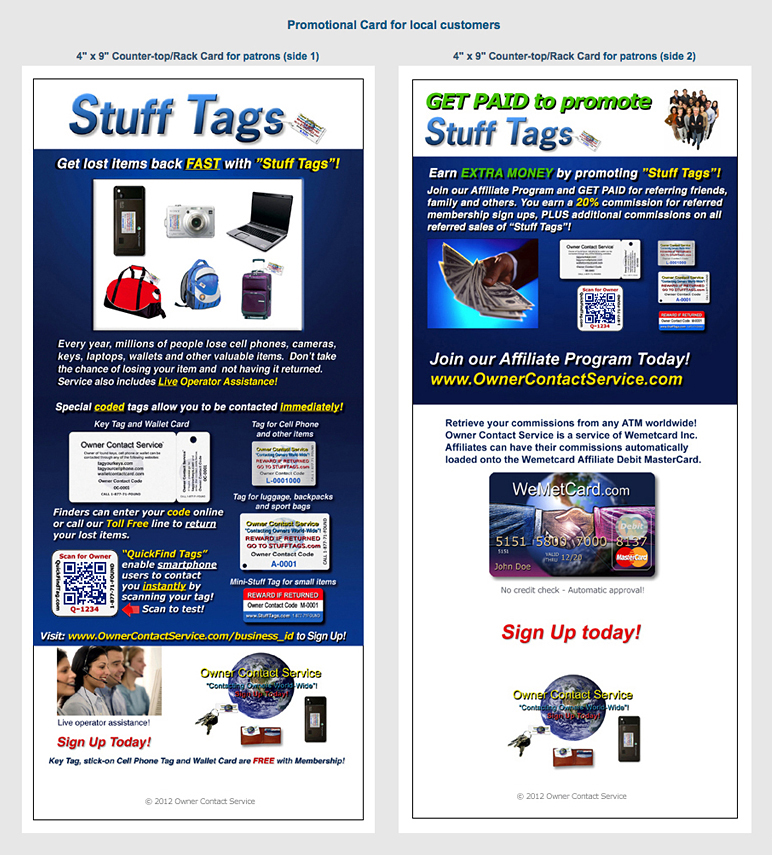 To become a
Partner
,
click here
or on the
Affiliates
link above.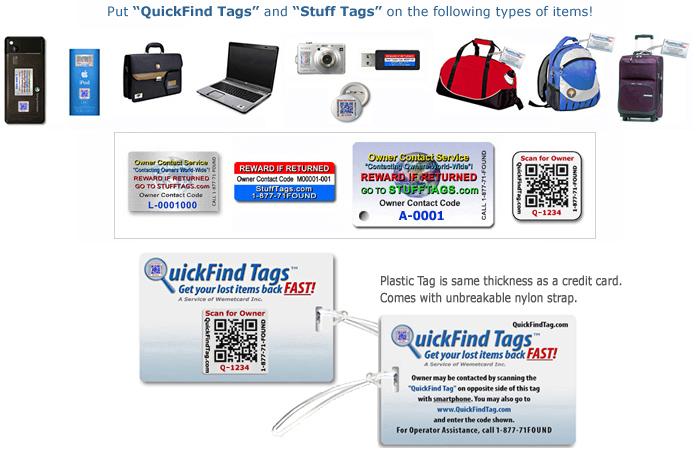 QuickFind Tags™ come 48 tags per package, so there are enough to place on all important items. Tags are scratch-proof and water-proof. Premium members can get them for the low price of only

$19.95!

QuickFind Tags™ can also be purchased at a discount in bulk for immediate availability to customers and then activated online in the members area. Your business earns commissions on all customer purchases!
Sample full page website banner for promoting to air travelers